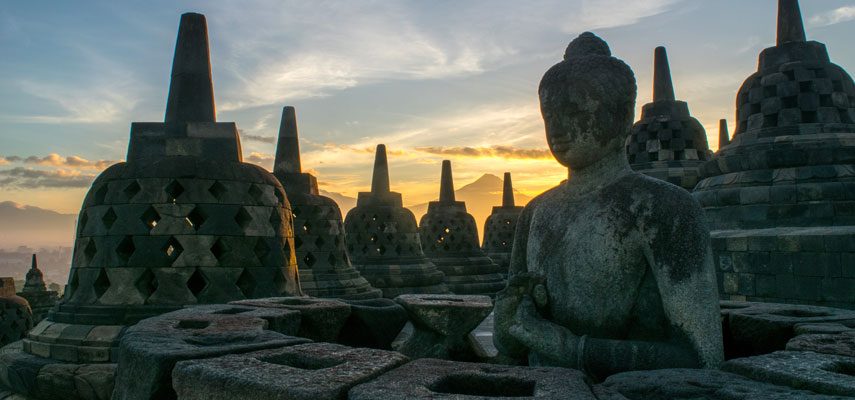 June 11-23, 2019
Bali, the justly renowned diamond in the necklace of islands that makes up the world's largest archipelago, is well-known for its inner and outer beauty. Bali Hinduism is the predominant local religion and one that nurtures and encourages the arts. Bali's stunning geographical beauty includes majestic volcanoes surrounded by terraced rice fields  that gently spill into an azure sea.
Bali is also known for its friendly hospitality. Beyond the high-rise tourist hype found at the resorts on the southern tip of the island are back roads never traveled by the conventional tour bus. There are native villages where a foreign face is still an unfamiliar sight.
Originally the people of Indonesia were the worshippers of nature (animism) and its components. Trees, stones and many other such things were believed to have supernatural power. Then, in the 2nd century, Hinduism became the first religion to make inroads into Indonesia. A few centuries later, Buddhism emerged on the religious scene of Indonesia and became the second religion of the country. Buddhism, sharing similarities to Hinduism, was believed to be an enhancement of Hinduism. It is no wonder that this led to the syncretism of Hinduism and Buddhism, and In Bali, Shaivism (or Çiwa) and Buddha are worshiped on the same altars.
This creative vacation will feature daily meditation and dharma classes with Dharma teacher Ruby Grad in a supportive, intimate community. Our itinerary will also include physical recreation in a paradise setting nearly every day, allowing participants to expand their bodies, minds, and spirits, in a stunning and inspiring country with a deep spiritual heart.
Excursions will include rice field hikes, treks in rain forests, snorkeling expeditions among tropical coral gardens, walks through coffee and clove plantations, and visits to lush waterfalls.
Participants will also be offered seminars on a wide range of topics, including Indonesian language, dance, sacred masks and their spirit sources. Bali's spiritual richness is responsible for an abundance of elegantly carved temples, a proliferation of music and dance, and a rich variety of arts and crafts. Visits to Bali's most important Buddhist sites, temple ceremonies and the home-workshops of artists and artisans will delight and absorb you.
In order to immerse ourselves in this unique culture, we stay where the tourists aren't—-in small, locally owned hotels known for their charm and warm welcome.
Itinerary
Day 1: Transit The journey begins. Depart USA around midnight, groggy but excited. Cross international dateline and lose an entire calendar day, which is made up on your return and which, if you've never experienced this phenomenon, is sort of cool.
Tuesday June 11 Day 2 : Candi Dasa BL Arrive at Bali's new Denpasar airport mid-afternoon, where you transfer to our amazing beachfront bungalows at Candi (pronounced Chaan-dee) Dasa in east Bali. Check in and unpack before gathering for opening circle, followed by dinner together. Enjoy a swim in hotel's glorious infinity pool because obviously.
Wed. June 12 Day 3: Candi Dasa B First morning session with Ruby, and breakfast (this duo is repeated every morning—meditation. Followed by breakfast. Then venture off by private bus to our waiting boats and enjoy a snorkeling excursion in a nearby coral reef preserve with views of Bali's stunning Mount Agung. Back to Lotus Bungalows for lunch, and our first orientation session focusing on basic Indonesian manners & customs, including a demonstration of how to wrap your traditional sarong because that's sort of important. At 5:30 we gather to  spend time with Made Surya to hear about the evolution of Bali-HInduism, from animism to Buddhism to the present. We watch the sunset, meditate, and enjoy group sharing, until dinner time.
Thur. June 13 Day 4: Candi Dasa BD Morning session with Ruby in the yoga space. Breakfast, and our second orientation/language session focusing on Bali's unique caste and village system. Then A visit to nearby Tenganan aboriginal village, where Bali's finest basket making and textile weaving takes place, and where we enjoy a personal demonstration of calligraphy and weaving. After lunch in Candi Dasa, the afternoon is free. 4:00 seminar with Made Surya on Bali's history, then at 5:00, walk to the nearby Ghandian Ashram, for a tour of the facility, and dinner prepared by the Ashram members. On the way, we see the local temple to the Buddhist goddess Haritri, for whom Candi Dasa is named.
Fri. June 14 Day 5: Candi Dasa B Morning session with Ruby, then breakfast. Third orientation/language session, on bargaining, followed by an excursion to east Bali, with a visit to the royal palace, and time-travel back to the Dutch colonial era. Onward to Tirtagangga, a stunning "water palace" built by the region's last Raja (king). Swim in the crystal clear, Olympic-sized freshwater pool, followed by lunch in the gourmet restaurant overlooking the palace grounds. On the trip back, visit an incredible organic chocolate factory owned by a man named Charley (seriously). During our Happy Hour, meeting, Made Surya will discuss_____. After dinner, an ethnographic film, The National Geographic Special on Bali.
Sat. June 15 Day 6:  Ubud B Morning meditation with Ruby, then breakfast with final orientation/language session. Depart Candi Dasa for Ubud, Bali's "cultural center," stopping along the way to visit the 11th century Hindu/Buddhist temple at Goa Gadjah, the "Elephant Cave." Check into our hotel, and then a brief walking tour to acquaint you with local amenities and purchasing sarongs. Late afternoon meet with Ruby in the yoga space. Amazing evening performance of Kecak (Ramayana) dance and fire trance dance, followed by dinner.
Sun. June 16 Day 7: Ubud B D Morning session with Ruby in the Yoga space, followed by breakfast. Seminar with Made Surya on Balinese Rites of Passage: Birth, Initiation into adulthood, Marriage, and Death. Then we have an excursion to a cremation ceremony at the village cremation grounds. Late afternoon, we travel to the temple of Tirta Empul in Tampaksiring  for a purification ceremony in the healing waters, followed by a visit to the temple for meditation.  This evening we will have dinner together, and Alexandra will lead a discussion on impressions of the days activities with Made Surya, along with a guided meditation and sharing.
Mon. June 17 Day 8: Ubud B Morning session with Ruby, followed by breakfast. Excursion to the capitol city of Denpasar where we visit a Buddhist temple and interview the monk living there. Next a guided tour of the Anthropological Museum, with special focus on the display illustrating Balinese Rites of Passage. Lunch at the home of your guide, Made Surya, meet the family, and tour the compound, including the family temple. Practice mindfulness learning the art of making Balinese temple offerings. Evening performance of Jegog, giant bamboo Gamelan described as the "Sounds of the Earth, accompanied by traditional dance.
Tues. June 18 Day 9: Ubud B Morning session with Ruby, followed by breakfast. Then we visit artists and craftsmen in their home studios, beginning with a factory in nearby Pejeng, where they create beautiful batik in the traditional way, then on to a compound of shadow puppet makers and performers. Our final visit is to the home of one of the few carvers on the island who creates sacred masks. Late afternoon session with Ruby . Evening open to enjoy another performance of traditional dance if you wish.
Wed. June 19 Day 10 Munduk BD Morning meeting with Ruby and then breakfast and check-out. Depart for island tour of volcano country and north Bali. We wind our way through stunning landscapes and Bali's fruit and vegetable basket, stopping at the fruit and flower market, and Pura Ulun Danu, Bali's most beautiful temple, named for the goddess of lakes and streams, floating on a small island in a volcanic lake. Arrive in Munduk mountain village early afternoon, have lunch, and check into hotel. Late afternoon meet at the meditation centre for a lovely session before sunset. Evening, we will have the first of our family-style group dinners, followed by an anthropological film: The Three Worlds of Bali.
Thur. June 20 Day 11 Munduk BD Morning session with Ruby, then breakfast, followed by a gorgeous, relatively easy trek through the neighboring countryside: small villages, rice fields, coffee and clove plantations, culminating at the magical Growing Stone. Late afternoon meet at the Meditation Hall for an additional session with Ruby. Evening meal together followed by optional ethnographic film: Lempad of Bali.
Fri. June 21 Day 12 Munduk BD Morning session with Alexandra and breakfast. Depart the hotel for a trek through coffee and clove plantations to Bali's highest waterfall. Afternoon free until our afternoon session with Ruby. Evening dinner together.
Sat. June 22 Day 13 Munduk BD Breakfast. Early departure to visit Brahmavihara-Arama Buddhist Monastery—  Bali's largest Buddhist monastery. Opened in 1970, Brahmavihara-Arama comprises a large plot of hillside, with numerous meditation rooms, libraries, beautiful gardens, and an impressive mini replica of the world's largest Buddhist archaeological site, Borobudur on its highest grounds. We have our morning meditation session there, and interview the Head Monk. Afterward test the waters of the near-by Holy Hot Spring. Onward to the capitol city of of North Bali, Singaraja, where we visit the Ling Gwan Kiong, Singaraja
Ling Gwan Kiong, an old Buddhist temple that resided in part of the seaport estate in Singaraja, North Bali. The hallmark of the temple is the presence of a fang shen water turtle, kept in the center of the building. The temple dates back to 1873 with relation to the Ching Dynasty, also the temple is a silent testament to the town's unique history. Lunch at Lovina Beach nearby.
The remainder of the day is free until final Happy Hour together—a time to ask unanswered questions. Guided meditation, group sharing/discussion, closing ceremony. Final dinner together, followed by a performance of music and dance by the local village dance and gamelan group.
 Sun. June 23 Day 14 Transit  After breakfast, depart for the airport and your flight home, or stay on and enjoy more of Bali and Indonesia.
No one is expected to join every activity, however there will be no refunds for any missed activities, and anyone who leaves the tour at any time, for any reason, is on their own.
Our Hotels: www.lotusbungalows.com/
Included:
Four nights in Candi Dasa Beach
Four nights in Ubud Cultural Center
Four Nights in Munduk mountain village
Daily group meditation and learning sessions with Ruby Grad
Snorkeling excursion in Candi Dasa (excluding mask and fin rental)
Attendance at three traditional dance & music performances
Guided tours of Tenganan aboriginal village,Tirtagangga Water Palace, Karangesem royal palace, chocolate factory, home/studio of a master carver of sacred masks, Ulun Danu and Goa Gajah Temples, Ogoh Ogoh Museum, fruit and flower market
Treks through the neighboring countryside: small villages, rice fields, coffee and clove plantations, culminating at the magical Growing Stone, and Bali's most magical waterfall.
Purification ceremony at Tirta Empul sacred springs, attendance at full-moon ceremonies in local temples.
Breakfast every day, Lunch in your guides family compound, dinner at Ghandi Ashram, four family-style dinners in Munduk.
Seminars and talks on rites of passage, bargaining, history and politics, trance and sacred masks, local customs and culture, language, Hindu religion & caste system, traditional healers, rites of passage, symbolism in cremation, ancestor worship
An offering making workshop.
Visit to the Brahmavihara-Arama with an interview with the Head Monk and Ling Gwan Kiong Temple in Singaraja.
Undying services of Madé Surya & Judy Slattum, Bali specialists.
Pre-trip information. On-site handouts. And more
Private transfer and tours as per itinerary
Private transfers and tours as per itinerary
Meals as indicated in the itinerary ( B=Breakfast, L= Lunch, D=Dinner)
Entrance fees, donations, parking
English Speaking Guide
Not Included:
RT air and airport transfers.
Meals that are not noted in above itinerary (expect $6-$12 per meal)
Alcoholic beverages
Laundry services
Overweight baggage fees
Snorkel equipment rental (just a few bucks)
Any additional activities or excursions not listed
Airfares and airport taxes
Meals which is not specified in the itinerary
Any personal expenses such as phone call, tipping, beverages, etc
Travel insurance
Trip Cost: $3267.00
NOTE: Price is based on double-occupancy room, each with private bath (all hotels have western amenities and two have swimming pools). Includes full breakfast, excursions listed, classes and workshops, services of Judy and Surya, along with several orientation and language sessions. Also includes all hotel transfers, land arrangements. Minimum 10 participants, maximum 16.
Deposit: A deposit payment of $500.00 per person is required at the time of booking. Final payment is due April 11, 2019.
Cancellations and Refunds: For the flight portion, cancellation will be governed by the rules and regulations as listed in the flight contract by the participating airline. For the land portion, a cancellation fee of $350.00 will be collected up to 60 days prior to departure, after which half the final payment will be refunded. No refunds will be made from one week before departure. Trip cancellation and medical evacuation insurance is highly recommended.
Accommodations: All accommodations are based on two persons sharing a twin bedded room with private, western-style bath. Single supplement available for $430.00 additional
Roommates: Single folks may sign up for accommodations desired on a share basis and will be assigned a (totally awesome) roommate as circumstances permit. We draw some very cool people. If a roommate is unavailable, the participant will be notified of the adjusted price for a single supplement:$430.00.
Passports, Visa & Health: A passport, valid six months from date of entry with proof of onward transportation. Indonesian free visa for 30 days granted on arrival to US citizens. No inoculations are suggested or required, except the one against fear and/or worry your guides.
About Ruby Grad:
Ruby Grad has been practicing Vipassana (insight) meditation since 1988. She has studied meditation and the Buddha's teachings on her own and with a wide variety of monastic and lay Dharma teachers, focusing primarily on the Ajahn Chah Thai forest lineage. She is a graduate of the Spirit Rock Community Dharma Leader (CDL) and Dedicated Practitioner (DPP) programs. She worked at Spirit Rock Meditation Center as retreat manager for 13 years, and administered both the DPP and CDL programs for many years. She mentored to students in the Audiodharma online introduction to meditation course for over 10 years and has worked with students around the world. She is a graduate of the Sati Center's Buddhist Chaplaincy course and currently works in the Multnomah County Jail in Portland, Oregon, as a Buddhist chaplain and meditation teacher. Ruby also leads meditation and study groups for women and senior citizens in Portland and is a hospice volunteer. Her current spiritual communities are the Pacific Hermitage in White Salmon, WA, Abhayagiri Buddhist Monastery in Redwood Valley, CA, and Portland Friends of the Dhamma.  In her professional life, she trained as a lawyer and recently retired from working in legal publishing after 33 years.
Tour Organizers/Leaders: Made Surya would be considered a unique individual in any culture. Born in Denpasar, the capitol city of Bali, his father was a freedom fighter against both the Dutch and Japanese. After the war his father became an undercover policeman, until his nightly meditation sessions revealed his calling as a Bali-Hindu priest. A religious scholar, his studies eventually placed him in the Office of Religion (Parisada Hindu Dharma). As his eldest son, Surya was given private religious instruction to prepare him to take over as head of the 400 year old family compound. His parents, with help from academic scholarships, also managed to put Surya through graduate school.
He is also a performer of traditional mask dance, a mask carver, and is frequently asked to sing Kawi religious texts at ceremonies.
Thirty-two years ago Surya married Bali scholar Judy Slattum  (Masks of Bali, Spirits of an Ancient Drama, Chronicle Books, 1992) and together they organize and lead theme trips for visitors to Bali. One of these trips, The Healing Arts of Bali, involves bringing visitors to the homes of Balinese Healers to watch them work and answer questions. Through this, Surya has become familiar with and in many cases, close to some of Bali's foremost Healers.
For eight years Surya conducted trips for the Institute of Noetic Sciences, on traditional healing, and family and community relations in Bali. This will be his second "Spirit of Buddhism in Bali" Tour, formerly working with Ana Douglas, one of the founders of Spirit Rock Meditation Centre. He has also created 3 Buddhist meditation trips in Laos.