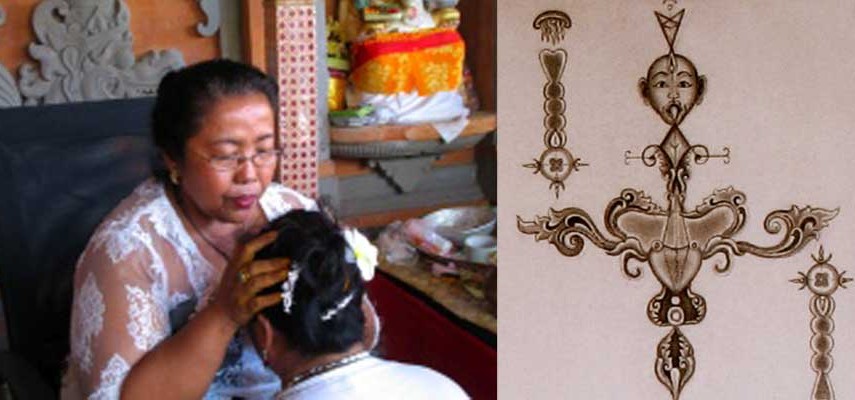 This trip offers an in-depth excursion into the culture of Bali through the eyes of the Balinese, for those who wish to observe, appreciate, and experience traditional healing methods, at the same time enhancing their own health with traditional massage.
There has been a strong, dynamic and extended movement in western culture to explore traditional medicine from many ancient cultures which received momentum in the early 1970's. The study of Asian medicine has been in the forefront of this movement, particularly Chinese acupuncture, herbal medicine and the practice of Feng Shui. This trip is conceived as an introduction to the philosophy and use of traditional medicine in Bali—why Balinese use it, its causes–both internal and external, material and spiritual.
In Southeast Asia local people have long held their traditional healers (called Balian or Dukun) in high regard. With the advent of western medicine, healers have not been discarded, but seen as adjunct and complementary to what western medicine offers. Besides visiting a western-style doctor when ill, the Balinese consult a Balian, a traditional healer. These men and women work in different ways: some mix herbal remedies; some create drawings of magical inscriptions and symbols to protect the wearer; and some, while in trance, communicate messages from the Bali Hindu deities that dictate the creation of certain offerings and ceremonies. Paramount to the work is the study of the actual practitioners: who they are, the types and varieties, what they do, why they do it, who they work with, etiquette and behaviour. Tantamount to understanding Balinese medicine is to understand the magic of the Left versus the Right. Love potions, black magic and their relationship to illness.
Medicinal plants & herbal medicines play an important, daily role in the indigenous population and we will spend time investigating the forms and applications of these. Every Balinese knows how to make the simplest medicines for common colds, flu, headaches and wounds. Made from basic ingredients found on the island, these remedies have been time-proven over the centuries to be effective in any country in the world. Most Balinese grow their own herbs, but they can also be found in the local markets. We will go on a herb walk, learn about mixing herbal medicines, and observe the use of these medicines during visits to Balinese healers. We will also learn the art of making a temple offering.
Massage is regarded as an important healing art on the island of Bali. Almost every family includes one member who practices this art, and there are many professionals on the island. These Balian Tulang/Uat are called upon in emergencies to set broken bones or dislocations. Many of the Balian's have received their knowledge from a parent or grandparent, while others have acquired their skills directly from the Hindu deities. During the trip each participant will receive two massages from respected practitioners, with enough time to schedule repeat sessions.
Purification ceremonies are an important part of Bali Hindu religious cycles. Usually held during times of stress, plague, transgression, or as part of the rites of passage, these ceremonies many times involve sacred masks, and most are held within the villages temples. Each member of our group will experience a purification ceremony.
Besides the wealth of knowledge included in the itinerary, in this trip participants stay in three different locales: the mountains, the sea, and the cultural centre, You will truly experience the best Bali has to offer.
Itinerary
Thur. Aug. 28: Day 1: Munduk. D Arrive in Bali where you are met by your driver and transferred to Munduk mountain village hotel, have an optional light dinner and a comfortable night's sleep.
Fri. Aug. 29: Day 2: Munduk. BD Buffet breakfast, followed by an introductory session with Made Surya with focus on basic Indonesian manners & customs. Then a walk to Munduk village, for an orientation, stopping at a coffee mill and also the Munduk market, with an explanation of the "exotic" fruits and vegetables. 1:30-3:00 A session on basic aromatherapy/plant medicine and  tips on how to view and interact with those plants in Bali. Short break, then meet at the sunset bar for a talk on the basics of Bali Hinduism with Surya. Family style dinner of local specialities.
Sat. Aug. 30: Day 3: Munduk: BD Following breakfast, a guided tour with Made Surya of natural medicinal herbs both growing wild and cultivated in the hotel herb garden and along the way to Bali's tallest waterfall with a chance for the adventuresome to take a dip. Lunch, downtime, and included therapeutic massages begin. Afternoon a session identifying and utilizing herbs you collected on your walk. Late afternoon orientation session with Surya, focusing on the caste and banjar system. Group dinner together.
Sun. Aug. 31: Day 4: Munduk. BD Breakfast, followed by walk through the neighbouring countryside: small villages, rice fields, coffee and clove plantations, culminating at the sacred Growing Stone. Return to hotel for lunch. Casual forum on massage, with Surya talking about  Balinese massage, an Ayurvedic practitioner from the hotel explaining their work. Massages continue. Late afternoon introductory session on Balinese pharmacopeia and seminar on the Balian, local traditional healers, followed by group dinner.
Mon. Sept. 1:Day 5: Munduk BD Breakfast is followed by visit to a local Balian for an interview and to observe his work. After lunch, massages continue. Late afternoon talk on Kanda Empat, the "Four Spiritual Siblings" each person is born with.
Tues. Sept. 2:Day 6: Munduk BD In the morning we journey to Penebel village in another district to visit a hot springs.  Afternoon we observe a dance class by village children.  Afternoon talk focusing on the traditional Balinese Rites of Passage and their symbolism and importance in Balinese life.
Evening farewell to Munduk ristaffel and performance of music and dance by the village Gamelan group.
Wed. Sept. 3: Day 7: Ubud B Depart Munduk for Ubud, Bali's "Cultural Center," stopping at Pura Ulun Danu, Bali's most stunning temple floating on a small island in a volcanic lake and the spice and flower market. We wind our way through the towering volcanoes and Bali's fruit and vegetable basket, ending our travels in Ubud. Downtime. 7:00 be at the entrance of the Pura Dalem Ubud for a performance of the Kecak dance by torch light, and the Fire Trance dance.
Thur. Sept. 4:Day 9: Ubud. B Day free until late afternoon departure for the 11th century temple and monuments of Gunung Kawi. On to  Sacred Springs of Tampaksiring, believed to have healing properties. There will be a purification ceremony for those who wish to participate. Evening performance of classical dance with the Women's Gamelan playing.
Fri. Sept. 5: Day 10: Ubud B Visit to the home of another local Balian (healer) to watch him practice and perhaps have a "checkup." Afternoon discussion of healing techniques with Surya. Evening performance of the Jegog, giant Bamboo Gamelan.
Sat. Sept. 6: Day 11: Ubud B Island tour to East Bali, taking us through striking visions of terraced rice fields and craggy mountains, ending up at the aboriginal village of Tenganan to watch the double ikat weaving process (created only two places in the world), and a demonstration of Balinese lontar or palm leaf books being made, and meet another local healer. Lunch overlooking the rolling surf in Candi Dasa. Our next visit is to Goa Gajah, an 11 century important temple in Bedulu village. Our last stop is to Senang Hati—an NGO for disabled Balinese adults, to tour their facility and check out their boutique. Free evening, with an opportunity to see another performance.
Sun. Sept. 7: Day 12: Sanur BL. 9:00 Check out and  depart for a performance of the Barong dance, the struggle between the forces of good and evil, in Batubulan, village of stone carvers. Onward to the traditional family compound of your guide in the Capital city of Denpasar, have a wonderful lunch created by the family, and tour the family compound. Then have a session making Jamu—traditional herbal tonic. Travel to Sanur beach, check into our hotel and frolic in the sea.
Mon. Sept. 8:Day 13: Sanur BD Visit to our third healer–a woman who specializes in trance channeling. Lunch at our favorite cafe in Sanur beach.
Afternoon free to enjoy Sanur.  Farewell to Bali feast–an elaborate ristaffel banquet.
Tues. Sept. 9: Day 14: B Check out.
Trip Package Includes:
Airport transfers
6 nights in Muduk mountain village
4 nights in Ubud—Bali's cultural centre
2 nights in beautiful Sanur Beach
2 traditional massages with local professionals
4 visitings with traditional healers
5 performances of traditional music and dance

Island tours including visits to Tenganan aboriginal village, traditional markets, temples of Tampaksiring, Gunung Kawi, Mengwi and Ulun Danu
3 treks through rain forests, rice fields, and plantations
6 dinners in Muduk, lunch in your guides family home, a ristaffel dinner of Balinese food, breakfast every day.
Seminars on sacred masks, local customs and culture, language and religion, ceremonies, trance, rites of passage, East/West medicine.
Services of Made Surya-Bali's utmost authority on local medicine and healers
Not Included:
Laundry, additional sightseeing, tips, meals not noted
Cost: $2300.00 based on two persons sharing a room with bathroom. Single supplement available. Minimum 6 participants, maximum 16 participants.
Roommates: Single people may sign up for accommodations desired on a shared basis; roommates can be chosen from other tour members. If a roommate is unavailable, the participant will be notified of the adjusted price for a single supplement: $326.00  extra.
Deposit: A deposit of $500.00 per person is due at the time of booking. Final payment is due 45 days prior to beginning date. Deposit, minus a $100.00 cancellation fee, is refundable until 45 days prior to tour. For cancellations after June 1, cancellation fee $500.  No refunds will be made after July 15, 2020.
Passport, Visa, and Health: A passport, valid six months from date of entry with proof of onward transportation is required for entry into Indonesia. Visa on arrival valid for 4 weeks. If you wish to stay longer, apply to the Indonesian Consulate for a 2 month visa prior to arrival. No inoculations are required or advised. Everyone participating in this trip is expected to be in good health and able to walk at least three miles unaided.
Trip Organizer/Leader: Madé Surya B.S. is a professional tour organizer and has been leading study tours in Bali for over 30 years. He has translated and worked with scholars and educational groups, film and video crews, including National Geographic, and lives in Bali half the year. He was senior research assistant for several scholarly books relating to the Balinese view of the After Death. He is on the advisory board for Sacred Sites International, and has been a contributor to Hinduism Today. Surya has continuously led Healing Arts educational tours to Bali since 1986, and is said by Lonely Planet On-line Travel to be the "top authority on Balinese Healers." www.balihealers.com